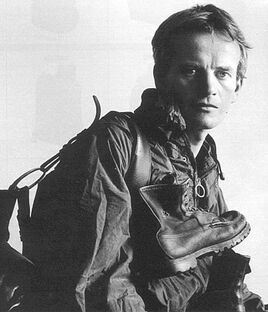 A Coup
by
Bruce Chatwin
Dramatized by
Annie Caulfield
Directed by -
Marina Caldarone
BBC Radio 4
-
Afternoon Play
- 28.09.2007
Adaptaion of a true memoir by Bruce Chatwin, (recounted in his collection of essays and travel writing "What am I Doing Here?") caught up in a revolution as the small African republic of Benin erupts into chaos.
References
Edit
Ad blocker interference detected!
Wikia is a free-to-use site that makes money from advertising. We have a modified experience for viewers using ad blockers

Wikia is not accessible if you've made further modifications. Remove the custom ad blocker rule(s) and the page will load as expected.