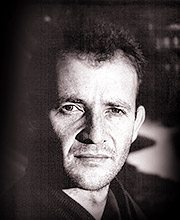 Anton Lesser
(born 14 February 1952) is a British actor. He attended Moseley Grammar School and the University of Liverpool before going to RADA in 1977 where he was awarded the Bancroft Gold Medal as the most promising actor of his year.
As an Associate Artist with the Royal Shakespeare Company he has played a considerable number of Shakespeare's great roles. In addition to his theatre work, he as also appeared in television and film.
He is a frequent radio actor, and has starred in the BBC Radio adaptations of the first five Falco mysteries by Lindsey Davis. He has also recorded many audio books - including much of the work of Charles Dickens. His recording of Great Expectations won him a Talkie Award.
Anton lives in Warwickshire with his wife Madeleine and two children- his son, Harry, and daughter Lily.
List of Appearances
Edit
External Links
Edit
Ad blocker interference detected!
Wikia is a free-to-use site that makes money from advertising. We have a modified experience for viewers using ad blockers

Wikia is not accessible if you've made further modifications. Remove the custom ad blocker rule(s) and the page will load as expected.