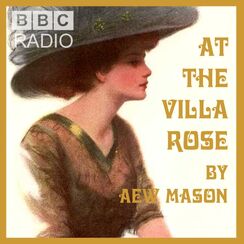 At the Villa Rose by A.E.W. Mason
Dramatised by David Benedictus
Directed by Marion Nancarrow
BBC Radio 4 30/10/1999
Length: 58:35
France 1910.
Middle-aged Julius Ricardo is on holiday at Aix-les-Bains. One evening at the casino he notices Celia Harland, beautiful companion to wealthy Madam Camille Dauvray. Rescued from starvation, and probably worse, by her kind-hearted employer, Miss Harland is now romantically involved with rich young Englishman Harry Wethermill.
Both men are staying at the Hotel Majestic, and next morning Wethermill bursts into Ricardo's room with the news Madam Dauvray has been murdered at the Villa Rose, her confidante and maid Helene Vauquier bound and chloroformed, and Miss Harland, madam's car, and all her extremely valuable jewelry are gone. Wethermill insists Inspector Hanaud of the Paris Surete, also holidaying in the town, aid the local authorities with their investigation, not least in finding the missing girl, even though he appears to be the only person who believes her innocent of the terrible crime.
References
Edit
Details from recording of broadcast
Ad blocker interference detected!
Wikia is a free-to-use site that makes money from advertising. We have a modified experience for viewers using ad blockers

Wikia is not accessible if you've made further modifications. Remove the custom ad blocker rule(s) and the page will load as expected.