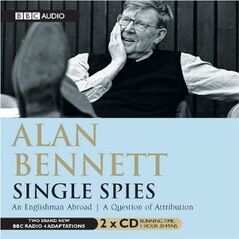 Betrayal
(aka Single Spies):
An Englishman Abroad
and
A Question of Attribution
Two plays by
Alan Bennett
Directed by
Susan Roberts
BBC World Service
29/10/1994
A critically acclaimed double bill of Alan Bennett plays, adapted for BBC Radio.
An Englishman Abroad focusses on Guy Burgess, while A Question of Attribution has another of the Cambridge spies as its central figure: Anthony Blunt, who remained in England and whose identity as a spy was only made public much later.
Ad blocker interference detected!
Wikia is a free-to-use site that makes money from advertising. We have a modified experience for viewers using ad blockers

Wikia is not accessible if you've made further modifications. Remove the custom ad blocker rule(s) and the page will load as expected.