Bleak House
is a radio serial by
John Dryden
, based on the novel by Charles Dickens. It was first broadcast on
BBC Radio 4
beginning on 29 November 1998, in five 60-minute installments. It was recorded on location at Chiddingstone Castle in Kent.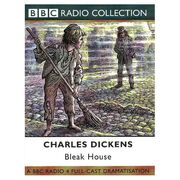 Charles Dickens' tale of Jarndyce and Jarndyce, a tangled court case that touches the lives of many people, from the regal Lady Deadlock and her dark secret, to the humble girl Esther Summerson.
with
Critical Reception
Edit
Winner of a Sony Award for Best Drama, and the Spoken Word Awards for Best Production and Best Adaptation, Dryden's version of the Dickens classic is one of the most acclaimed classic serials.
"Bleak House is one of the jewels in the crown of radio drama…" – Christopher Robson, Plays and Players
"Only when you hear a production like this, in which different scenes have been recorded in different rooms, do you realise how monotonous is the acoustic used by most radio drama. It makes the story live in another dimension…" - David Sexton, Sunday Telegraph
"…quite extraordinary richness and complexity of sound, and a deep, dark, sinister, fog-soaked ambience. It is like looking at a Tintoretto after a succession of Constables…unprecedented depth…" - Paul Donovan, The Times
"John Dryden has pioneered in radio a kind of movie for the wireless, in which fast cutting, music and location recording are used to create pace and atmosphere…Outstanding production…Brilliant rethinking of the whole business of the classic serial…" - Mark Lawson, Radio Times[1]
References
Edit
Ad blocker interference detected!
Wikia is a free-to-use site that makes money from advertising. We have a modified experience for viewers using ad blockers

Wikia is not accessible if you've made further modifications. Remove the custom ad blocker rule(s) and the page will load as expected.