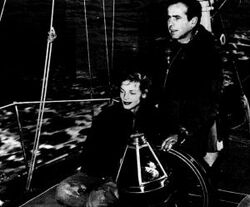 Bold Venture is a 1951-1952 syndicated radio series starring Humphrey Bogart and Lauren Bacall. Morton Fine and David Friedkin scripted the taped series for Bogart's Santana Productions.
Salty seadog Slate Shannon (Bogart) owns a Cuban hotel sheltering an assortment of treasure hunters, revolutionaries and other shady characters. With his sidekick and ward, the sultry Sailor Duval (Bacall), tagging along, he encounters modern-day pirates and other tough situations while navigating the waters around Havana. Aboard his boat, the Bold Venture, Slate and Sailor experience "adventure, intrigue, mystery and romance in the sultry settings of tropical Havana and the mysterious islands of the Caribbean."
Calypso singer King Moses (Jester Hairston) provided musical bridges by threading plot situations into the lyrics of his songs. Music for the series was by David Rose.
The series combined elements of a number of past Bogart/Bacall film collaborations, most notably To Have and Have Not which also cast Bogart as a boat owner in the Caribbean who reluctantly becomes involved in intrigue while romancing Bacall. The relationship between Shannon and King Moses, and his ownership of an inn, is strongly reminiscent of the dynamic between Rick Blaine and Sam in Casablanca.
Beginning March 26, 1951, the Frederic W. Ziv Company syndicated 78 episodes. Some sources have claimed that the 78 episodes include reruns, and that there were only around 30 episodes but more than 50 shows have now come to light. Heard on 423 stations, the 30-minute series earned $4000 weekly for Bogart and Bacall.
57 episodes are now known to exist, some are known by more than one title which can make it appear that there are more.
12 Year Promise (aka Oil Wells)
A Backstabbing at Shannon's Place (aka Joe Norman, The Laughing Sailor)
A Bullet For Shannon (aka Thugs And Slugs/Johnny Price Story)
Alice Ramsey's Husband (aka Poison Darts/Voodoo Vendetta)
A Muncie Murderess in Havana
An Invitation To Death
Background Shots Can Kill You
Blue Moon
Camellias and a Ruby
Carlos & Juan Story (aka Crazy Old Carlos)
The Chaney Wedding (aka Death At The Wedding)
Cruise To Batabano (aka Emelio Lopez Story)
Darby and Joan Incorporated
Death By A Fighting Bird (aka Deadly Merchandise/Smuggling Arms)
Death Of Rudy Keijon (aka With Friends Like These/Bob Yancy arrests Slate for murder)
Diamond Smuggling
El Indio
Espionage & Murder in San Tomas
False American Passports
Ghost Ship
Half Million Reasons to Find Cary Martin
Haven's Venezuelan Island (aka Gene Moore's wife/Claudia)
Innocent in Trujillo
Isle Of Pines (aka I'm Going To Die/Rhoda Gonzalez)
Jennie Ward, Slate's Old Flame
Kwan Yen Statue (aka Quam Yi Statue)
Louis Gaspar Case (aka Slate's Stolen Identity/Bring Me The Body of Slate Shannon)
Murder in the Yucatán Peninsula
Murder Of Franny Lane (aka He Who Laughs Last/Murder Is No Joke/Slate Shannon accused of murder)
Mutineers of the S.S. Marino Victory
Mystery Of The Mary K
Passage for Mario Carada
Paul Brewer Story (aka Escape From Guantanamo)
Paolo Framed for Jewel Robbery (aka Supapo's Greed)
Revenge Equals Murder Times Two
Robbery By Joe Ralston (aka Revenge Is Sweet/The Big Road)
Russian Roulette
Ruthie Ryan's Father (aka The Big K.O.)
Sailor Framed For Murder
Sailor's Dead Husband (aka Marriage And Murder/Freddie Naye)
Search For Tommy Reed
Senor Rufio
Six Crates of Apples, White Envelope (aka Bill Of Lading/Dope Smugglers)
Slate Framed for Refinery Robbery
Slate Shannon Held for Ransom (aka Danger at Tina's Parakeet)
Slate Shannon Sucker
Slate's Stolen DaVinci
Slate's Tuxedo Pocket (aka Black Tie Affair)
Spanish Gold (aka Treasure On Flamingo Cay)
Suicide or Murder (aka Out Of Control/Phyllis Calvert murder)
Sunken Treasure at 20 Fathoms (aka Sunken Spanish Gold)
Tabard of Pizarro (aka Alice Markel poisoning)
The Dead Matt Jefferies (aka The One That Got Away)
The High Price of Treason
The Key To Death
The Tears of Siva (aka Star of Sheba)
Welcome Back to Civilization, Dead Man (aka Man From Sumatra/George Carson Killed)
External links
Edit
Ad blocker interference detected!
Wikia is a free-to-use site that makes money from advertising. We have a modified experience for viewers using ad blockers

Wikia is not accessible if you've made further modifications. Remove the custom ad blocker rule(s) and the page will load as expected.