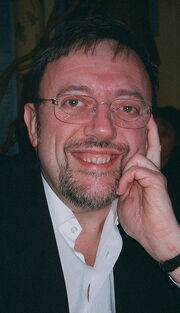 Brian Sibley
(born 14 July 1949) is a British writer whose work includes radio plays, radio series, documentaries, as well as a variety of books. He is most famous for his radio adaptations of fantasy literature, particularly
The Lord of the Rings
. He won a
Sony Award
in 1985 for his dramatization of Mervyn Peake's
Gormenghast
.
Biography
Edit
Born Brian David Sibley in Wandsworth, London, the son of Eric George Sibley an architectural draughtsman and Doris Alice Sibley (née Summers). His family moved to Chislehurst, Kent when he was five years old. He was educated at St Nicholas Church of England Primary School and Chislehusrt Secondary School for Boys (later re-named Edgebury School for Boys), where he amused many small boys with his impersonations of teaching staff members in particular "Killer Edwards".
Following frustrated ambitions to be an actor, cartoonist and animator, Sibley worked first in various clerical capacities for the London Borough of Bromley and then for a shipping and finance company in London as a clerk, office manager and head of department. In his spare time, he began submitting scripts to the BBC and, when his company was taken over, he accepted redundancy and became a full-time freelance writer.
He lives in London with his partner, a magician.
Radio Plays
Edit
Other Work
Edit
References
Edit
External links
Edit
Ad blocker interference detected!
Wikia is a free-to-use site that makes money from advertising. We have a modified experience for viewers using ad blockers

Wikia is not accessible if you've made further modifications. Remove the custom ad blocker rule(s) and the page will load as expected.