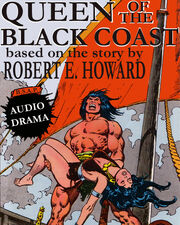 Conan: Queen of the Black Coast is an audio drama produced by Brokensea Audio Productions. It is based on the original story by Robert E. Howard and adapted for audio by Bill Hollweg. The series ran for seven episodes from June - December 2008.
Controversy
Edit
Although the original story for Queen of the Black Coast is in the public domain, Paradox Entertainment - owner of Robert E. Howard's copyrights - threatened suit against Brokensea over the use of the Conan character. This threat of legal action has thus far prevented Brokensea from adapting any further public domain Howard stories.
External Links
Edit
Ad blocker interference detected!
Wikia is a free-to-use site that makes money from advertising. We have a modified experience for viewers using ad blockers

Wikia is not accessible if you've made further modifications. Remove the custom ad blocker rule(s) and the page will load as expected.