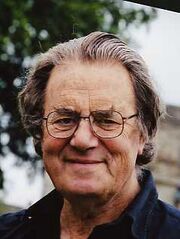 David Pownall
FRSL
(born 19 May 1938
[1]
) is a critically acclaimed and prize-winning author of plays, novels and short stories. He is a prolific radio dramatist known for a diverse body of work
[2]
.
Biography
Edit
David Pownall was born in Liverpool in l938 and educated at Lord Wandsworth College and Keele University. He worked for the Ford motor company and subsequently for in the Zambian copper-mining industry as a personnel officer. He returned to England in l969 to start a new career as a writer, finding success in the theatre[3].
His first radio play was broadcast in 1972. Since then, he has written many plays for the theatre and over sixty for radio, as well as twelve novels, and several works of nonfiction.
He is married to the photographer Alex Pownall and has two sons.
Radio Awards
Edit
David Pownall has won two Giles Cooper Awards for radio plus a Sony Gold and two Sony Silver Awards.
Radio Plays
Edit
References
Edit
↑ http://www.suttonelms.org.uk/DP.HTML Diversity Website
External Links
Edit
Ad blocker interference detected!
Wikia is a free-to-use site that makes money from advertising. We have a modified experience for viewers using ad blockers

Wikia is not accessible if you've made further modifications. Remove the custom ad blocker rule(s) and the page will load as expected.