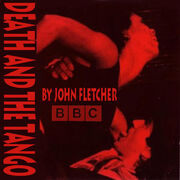 Death and the Tango
is a 1990 radio play by
John Fletcher
. It was broadcast on BBC Radio 3 on 17 September, 1990. The length is 1hr 21mins. It won a
Giles Cooper Award
the same year. It is often described as a "metaphysical fantasy comedy thriller."
Available on Radio Archive:
Music composed and performed by Vic Gammon Directed at Pebble Mill by Nigel Bryant
Comments from John Fletcher
Edit
The script is published in "Best Radio Plays of 1990" published by Methuen. In addition to the Giles Cooper Award, according to a quite well-lubricated John Tydeman who phoned me up very early one morning from Rome, it came "second" in the Italia Prize. (There is no such thing as second in the Italia. He explained that Europe was divided in two - north and south, animal fats and olive oil, protestantism and catholicism - and the two areas divide who wins each year. He explained that people with southern latin-based languages had no sense of humour, which is why "Tango" came "second."
Critical Reception
Edit
Alan Drury, from the introduction in Best Radio Plays of 1990:
"It is always said that radio has the best pictures and John Fletcher's "Death and the Tango" has two of the most striking visual images I have encountered in a year of reading scripts for all media. Two ordinary Birmingham men, with only an interest in the tango to mark them out, take us on an extraordinary odyssey to the end of the world on a ship of fools and back to a transformed, transcendent Birmingham. A fair part of the power of the piece comes from the precision of the images. This is a gradually transforming world, but it is a concrete one."
THE TIMES Death and the Tango Already a Giles Cooper award winner, John Fletcher's metaphysical comedy thriller is now a BBC entry for this year's Prix Italia. And nobody who has already heard this fantasy about two young Birmingham men whose respective passion for tango darkness and Renaissance light take them on an extra-terrestrial odyssey, will be surprised if the Prix Italia judges follow the lead of the Giles Cooper judges.