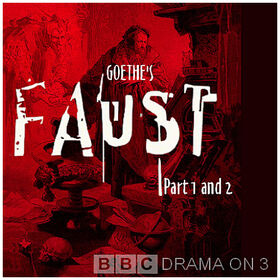 Faust, Parts 1 & 2
by
Johann Wolfgang von Goethe
Translated by
John R Williams
Adapted and Directed by
David Timson
Produced by
Nicolas Soames
BBC Radio 3
Drama On 3
- 19/09/2010
Length 4hrs 8mins.
Each part had an introduction by David Timson
Following an agreement between Mephistopheles and the Lord, Faust is tempted into a contract with the Devil. He plunges into the enjoyment of sensuality until his emotions are stirred by a meeting with his love, Gretchen. In Part 2 Goethe places his hero in a variety of situations that reflect the predicament of humanity.
Ad blocker interference detected!
Wikia is a free-to-use site that makes money from advertising. We have a modified experience for viewers using ad blockers

Wikia is not accessible if you've made further modifications. Remove the custom ad blocker rule(s) and the page will load as expected.