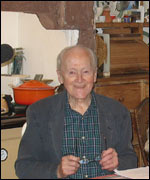 Geoffrey Banks (full name James Geoffrey Banks) born 1922 died on 13 April 2008.
TV and radio actor.
His many TV appearances included Heartbeat, Dear Ladies (Hinge and Bracket) where he played the vicar in all 3 series, The Royal, Coronation Street, Agatha Christie: Poirot, and The Forsyte Saga: To Let in 2003.
He also played the Mathematics Teacher in Ken Loach's film Kes in 1969.
Geoffrey Banks was first heard on BBC Radio in 1949 and was a regular broadcaster in plays, features and poetry programmes.
Radio PlaysEdit
ReferencesEdit
Ad blocker interference detected!
Wikia is a free-to-use site that makes money from advertising. We have a modified experience for viewers using ad blockers

Wikia is not accessible if you've made further modifications. Remove the custom ad blocker rule(s) and the page will load as expected.