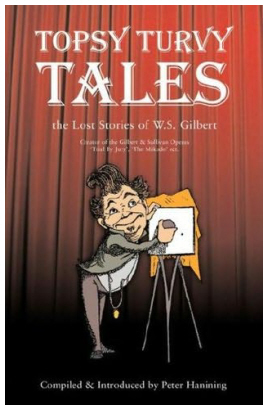 Gilbert Without Sullivan - Series 2 by Stephen Wyatt
Directed by Jenny Stephens
BBC Radio 4
This series was used as one-off fillers when needed
Dramatizations from the stories of WS Gilbert.
Episode 1 - 15.12.2004 - The Wedding March - It's Woodpecker Tapping's wedding day. Everything that could go wrong does.
Cast:
Episode 2 - 22.12.2004 - A Sensation Novel - Ebeneezer Fudge, writer of melodramatic sensation novels, is disturbed when his characters start coming to life and criticising his preposterous plots.
Cast:
Episode 3 - 29.12.2004 - A Colossal Idea - On holiday with his wife in Margate, Mr Yellowboy claims to be preparing the 123rd edition of the Encyclopaedia Britannica.But his activities are not that innocent.
Cast:
Episode 4 - 05.01.2005 - Tom Cobb, Or Fortune's Toy -Tom Cobb is engaged to Matilda O'Fipp, but the course of true love never runs smooth.
Cast:
Episode 5 - 12.01.2005 - The Realm Of Joy - A West End play is causing such scandal that respectable Victorian theatregoers can't keep away.
Cast:
Critical Reception
Edit
References
Edit
Ad blocker interference detected!
Wikia is a free-to-use site that makes money from advertising. We have a modified experience for viewers using ad blockers

Wikia is not accessible if you've made further modifications. Remove the custom ad blocker rule(s) and the page will load as expected.