Ad blocker interference detected!
Wikia is a free-to-use site that makes money from advertising. We have a modified experience for viewers using ad blockers

Wikia is not accessible if you've made further modifications. Remove the custom ad blocker rule(s) and the page will load as expected.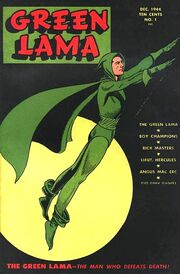 Green Lama was an Old Time Radio detective show based on the pulp and comic book hero created by Kendell Foster Crossen. It ran in 1949 on the CBS Radio Network.
Main Cast
Edit
05/17/49 Audition (The Man Who Never Existed)
06/05/49 Ep 1 The Man Who Never Existed
06/12/49 Ep 2 The man Who Stole A Pyramid
06/19/49 Ep 3 The Girl With No Name
06/26/49 Ep 4 The Million Dollar Chopsticks
07/03/49 Ep 5 The Last Dinosaur
07/16/49 Ep 6 The Return Of Madame Pompadour
07/23/49 Ep 7 Tapestry In Purple
07/30/49 Ep 8 The African Diamond Affair
08/06/49 Ep 9 The Gumbo Man
08/13/49 Ep 10 The Case Of The Dangerous Dog
08/20/49 Ep 11 The Case Of The Patient Prisoner
External Links
Edit