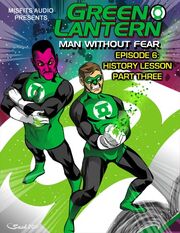 Green Lantern: Man Without Fear is a fan-produced audio drama from Misfits Audio. It follows the adventures of the DC Comics characters. Begun in April 2011, the series includes all four of earth's Green Lanterns - Hal Jordan, Kyle Rayner, Jon Stewart and Guy Gardner, and builds on plot elements from the comic books.
The Capture
Questionable Motives
It's the Law
History Lesson, Part 1
History Lesson, Part 2
History Lesson, Part 3
History Lesson, Part 4
Ad blocker interference detected!
Wikia is a free-to-use site that makes money from advertising. We have a modified experience for viewers using ad blockers

Wikia is not accessible if you've made further modifications. Remove the custom ad blocker rule(s) and the page will load as expected.