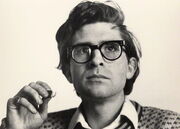 John Arden
(26 October 1930 - 28 March 2012) is an award-winning English playwright. He rose to prominence in the late 1950's, beginning with his first professional production, the radio play
The Life of Man
in 1956
[1]
. He has frequently collaborated with wife
Margaretta D'Arcy
. In the late 1970's, they had a notorious falling-out with the British theater establishment, which resulted in Arden withdrawing from writing plays for the professional theater for the most part. Since that time, he as written several novels in addition to a significant body of radio plays.
John Arden's radio plays have won several awards, and he is considered to be one of the finest writers of the medium.
He died on March 28th, 2012.
References
Edit
↑ The Reader's Encyclopedia of World Drama. Dover, 2002
↑ http://www.suttonelms.org.uk/jarden.html Diversity Website
↑ Dace, Tish. "Who Wrote "John Arden's" Plays?" Modern Dramatists Routledge 2001
Obituaries:
http://www.telegraph.co.uk/news/obituaries/culture-obituaries/theatre-obituaries/9177000/John-Arden.html
http://www.guardian.co.uk/stage/theatreblog/2012/apr/02/john-arden-serjeant-musgraves-dance?newsfeed=true