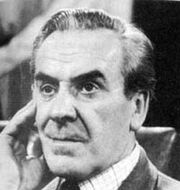 John Le Mesurier
(born
John Elton Le Mesurier Halliley
, 5 April 1912 – 15 November 1983) was a BAFTA Award-winning British actor. He is most famous for his role as Sergeant Arthur Wilson in the popular 1970s BBC comedy
Dad's Army
.
Le Mesurier was born in Chaucer Road, Bedford in 1912,[1] the son of a solicitor, Charles Elton Halliley and Amy Michelle Le Mesurier, whose family was from Alderney in the Channel Islands. He was brought up in[Bury St Edmunds in Suffolk and educated at Sherborne School in Dorset before he began to study acting at the age of 20, using his mother's maiden name (common in the Channel Islands) Le Mesurier (pronounced 'Le Measurer') as his stage name.
Le Mesurier was at Drama School with Sir Alec Guinness, and later worked with him in a production of Hamlet,directed by Sir John Gielgud in which the young Le Mesurier understudied Anthony Quayle as Guildenstern.[2]
He was commissioned into the Royal Tank Regiment in 1941 and served in the UK and India during the Second World War, reaching the rank of captain.
Le Mesurier appeared in over 100 films. He also appeared in most of Tony Hancock's films and many episodes of his television series. In most of his performances, he presented an impression of good-natured vagueness, which acquaintances claim was close to his true personality. His most popular TV (and radio) role was as the upper-class Sergeant Arthur Wilson in Dad's Army from 1968 to 1977. He accepted that role after finding out Clive Dunn, with whom he had worked in the Players' Theatre, would be playing the part of Corporal Jones.
Along with his fame in Dad's Army Le Mesurier was also prolific in the theatre throughout his career, appearing in works by Noel Coward and Terence Rattigan. His last stage appearance was a tour of Coward's Hay Fever in 1980/81.[3]. He also had an extensive career as a voice actor for commercials and television.
On radio, he reprised the role of Arthur Wilson in It Sticks Out Half a Mile, and played The Wise Old Bird in The Hitchhiker's Guide to the Galaxy (1980) and Bilbo Baggins in the BBC adaptation of The Lord of the Rings.
List of Appearances
Edit
Personal life
Edit
Le Mesurier was married three times:-
Actress June Melville (1939–1947)
Actress Hattie Jacques (1949–1965);[4] two sons Robin (born 23 March 1953) and Kim (born 12 October 1956) [5]
Actress Joan Malin (1965–1983)
When Jacques left him for a younger man, Le Mesurier allowed the press to give him the blame for the break-up in order to save Jacques' public image. His close friendship with the comedian Tony Hancock was seriously tested early in his third marriage, when his wife Joan left him for Hancock, only to return a year later. Much of this was kept secret from the general public at the time.
In private life, the actor was a heavy drinker, often seen with a drink in his hand but never noticeably drunk. Jacques claimed that his legendary calculated vagueness was the result of his "reliance on extra strong cigarettes".[6] Towards the end of Dad's Army, on medical advice he gave up alcohol but became seriously ill, and lost a great deal of weight. Friends relate that when he returned to drinking he had seven more years of life and regained his joie de vivre. His last words before slipping into a coma were reportedly, "It's all been rather lovely."[7]
He died at Ramsgate from a stomach haemorrhage, (caused by cirrhosis) on 15 November 1983, aged 71.[8] He is buried in the churchyard of the Church of St. George the Martyr, Church Hill, Ramsgate. His self-penned death notice in The Times stated that he had "conked out" and that he "misses his family and friends".
References
Edit
External Links
Edit
Ad blocker interference detected!
Wikia is a free-to-use site that makes money from advertising. We have a modified experience for viewers using ad blockers

Wikia is not accessible if you've made further modifications. Remove the custom ad blocker rule(s) and the page will load as expected.