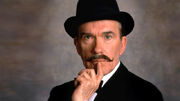 John Moffatt
(b. 24 September 1922 in Badby, Daventry - d. 10 September 2012) is a British actor and playwright, perhaps best known for his portrayal of Hercule Poirot on in the
BBC radio dramatizations
of Agatha Christie's novels. He has also portrayed many Sherlock Holmes characters on BBC radio, including Inspector Gregson, Dr. John H. Watson and even Holmes himself.
Biography
Edit
John Moffatt made his first appearance on stage in 1944, and was a member of repertory companies which included Perth, Oxford, Windsor and the Bristol Old Vic. He made his first London appearance in 1950, followed by other notable theatre work.
Radio Career
Edit
Although Moffatt has worked extensively in theatre, he currently works mostly in radio and audiobooks. His first radio appearance was in Mrs Dale's Diary in 1950, and has worked extensively in the medium ever since. In the 1980's, he was a member of the Radio Drama Company. His most famous role is as Agatha Christie's detective Hercule Poirot in an ongoing series of BBC radio dramatizations of the Poirot stories. He also appeared in Bert Coule's Sherlock Holmes BBC radio series, in which he played Inspector Tobias Gregson. In 1981 Moffatt played Holmes himself in a dramatisation of Loren D. Estleman's novel, "Sherlock Holmes vs. Dracula." TImothy West and David March co-stared as Watson and Dracula. Moffatt later played Watson on radio alongside Roy Marsden as Holmes in a series of half hour radio plays. He reprised the role of Watson opposite Dinsdale Landen as Holmes in an adaptation of Charles Marowitz's comedic stage play, "Sherlock's Last Case."
References
Edit
External links
Edit
Ad blocker interference detected!
Wikia is a free-to-use site that makes money from advertising. We have a modified experience for viewers using ad blockers

Wikia is not accessible if you've made further modifications. Remove the custom ad blocker rule(s) and the page will load as expected.