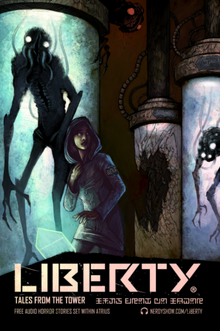 Tales from the Tower is an anthology podcast set in the world of Liberty - a transmedia sci-fi series explored through comic books and audio dramas. Liberty takes place on the space colony of Atrius, which for hundreds of years has been cut off from humanity and endured generations of civil war. What remains is a gleaming city and beyond its walls, a lawless expanse known as "the Fringe".
Each episode of Tales from the Tower contains a stand-alone tale of sci-fi horror.
Tales from the Tower Episodes
Edit
Impostor (Feb 9, 2016)
Missing (Feb 23, 2016)
Pinprick (Mar 8, 2016)
For Science (Mar 22, 2016)
Floor None (Apr 5, 2016)
Malfunction (Apr 19, 2016)
Genetic Markers (May 17, 2016)
Infection (May 31, 2016)
Heavy Heart (Jun 14, 2016)
Cleaning Day (Jun 28, 2016)
External Links
Edit
Ad blocker interference detected!
Wikia is a free-to-use site that makes money from advertising. We have a modified experience for viewers using ad blockers

Wikia is not accessible if you've made further modifications. Remove the custom ad blocker rule(s) and the page will load as expected.