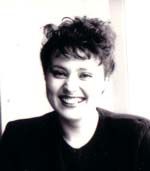 Marina Caldarone graduated with a Drama degree from the University College of Wales, Aberystwyth, she went on to assist writer Howard Brenton on the first production of Bloody Poetry in 1984. A couple of years directing on the London fringe led to the National Theatre Studio, then to winning the ITV funded Regional Theatre Young Director's award. Followed by a time as Associate Director at Theatr Clwyd, directing classics and new work, much of which toured nationally.
She Joined the Queen's Theatre Hornchurch as Artistic Director in 1992 leaving in 1996 to begin working as a freelance radio drama and theatre director. She is drama director of Crying Out Loud, making demo CDs for actors.
External Links
Edit
Article for The Stage by Marina Caldarone How to get work in radio drama.(actors)
References
Edit
http://www.queens-theatre.co.uk/biographies/marinacaldarone.htm
Ad blocker interference detected!
Wikia is a free-to-use site that makes money from advertising. We have a modified experience for viewers using ad blockers

Wikia is not accessible if you've made further modifications. Remove the custom ad blocker rule(s) and the page will load as expected.