Marvellous Boxes is an audio drama anthology series written by Tim Prasil and directed by Gregg Taylor, produced as Decoder Ring Theatre's 2012 Showcase Series.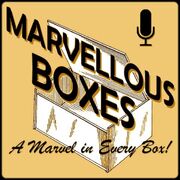 Writer Tim Prasil has written several audio dramas for Decoder Ring Theatre's Showcase Series. He wrote two stand-alone Showcase episodes in 2007, followed by another stand-alone episode in 2009. The 2009 episode, "Thinking in Ternary," turned out to be an unofficial pilot episode for what would become 2012's Marvellous Boxes anthology series.
Each episode of Marvellous Boxes is a stand-alone story, although some characters pop up in more than one episode. The unifying theme is that each episode features a some type of box. The series has been likened to other anthology series such as The Twilight Zone and The Outer Limits.
Decoder Ring Theatre's production of the second Marvellous Boxes show, "Frozen Words Thawed," was aired nationwide by the Australian Broadcasting Corporation's "Top of the Pods" programme on July 24, 2012.
0. Thinking in Ternary (2009 unofficial "pilot episode")
1. A Demon Once Removed
2. Frozen Words Thawed
3. Facing Cydonia
4. Plotting for Perfection
5. Remembering the Martians
6. Aliens Are Like Mirages
External Links
Edit
Ad blocker interference detected!
Wikia is a free-to-use site that makes money from advertising. We have a modified experience for viewers using ad blockers

Wikia is not accessible if you've made further modifications. Remove the custom ad blocker rule(s) and the page will load as expected.