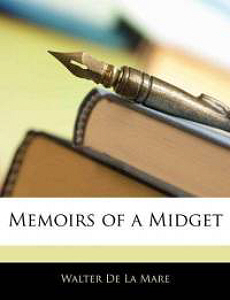 Memoirs of a Midget by Walter de la Mare
Dramatized by Stephen Wyatt
Directed by []
BBC Radio 4 - Classic Serial -14.03.1993 - 28.03.1993
In her 20th year, the death of Miss M's father renders the narrator of Walter de la Mare's 1921 novel, winner of the James Tait Black Memorial Prize, an orphan. It would be a difficult circumstance for any young woman, but particularly so for the miniature Miss M, who, despite her sharp wit, must endure the tendency of her care givers either to dominate her as if she is a small, stupid child ("Midgetina") or regard her as a curious object.
Critical Reception
Edit
References
Edit
Ad blocker interference detected!
Wikia is a free-to-use site that makes money from advertising. We have a modified experience for viewers using ad blockers

Wikia is not accessible if you've made further modifications. Remove the custom ad blocker rule(s) and the page will load as expected.