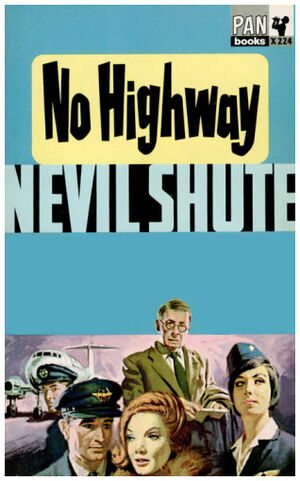 No Highway by Nevil Shute
Dramatized by Mike Walker
Directed by Toby Swift
BBC Radio 4 - Classic Serial - 22.08.2010 - 29.08.2010
2 x 60mins
Episode - 01 - 22.08.2010 - 1948.The future of Britain's transatlantic aviation industry rests on the success of a new plane - the Rutland Reindeer.
One has crashed already and an eccentric government scientist believes more will follow.
The race is on to prove his theory before Reindeers start to fell from the sky.
Episode - 02 - 29.08.2010 - Lives and careers are on the line as a government scientist tries to convince the authorities that he knows why.
Dennis Scott....William Beck
Shirley....Alison Pettitt
Honey....Paul Ritter
Marjorie Corder....Naomi Frederick
Monica Teesdale....Fenella Woolgar
Elspeth....Lauren Mote
The Director....Tony Bell
Ferguson....Jude Akuwudike
Samuelson/Morgan....Sam Dale
Dobson....Michael Shelford
Miss Learoyd....Christine Kavanagh
Prendergast/Russell....William Hope
Sir David Moon....Sean Baker
Hennessey....David Seddon
Critical Reception
Edit
References
Edit
Ad blocker interference detected!
Wikia is a free-to-use site that makes money from advertising. We have a modified experience for viewers using ad blockers

Wikia is not accessible if you've made further modifications. Remove the custom ad blocker rule(s) and the page will load as expected.