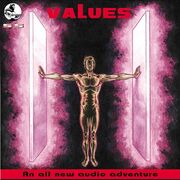 Values is a fan produced online audio drama based on the Planet of the Apes TV series. It follows human astronauts Pete Burke and Alan Virdon, and their ape companion Galen, as they try to find a way for Pete and Alan to return to their own time. The series ran for seven episodes.
External Links
Edit
Ad blocker interference detected!
Wikia is a free-to-use site that makes money from advertising. We have a modified experience for viewers using ad blockers

Wikia is not accessible if you've made further modifications. Remove the custom ad blocker rule(s) and the page will load as expected.