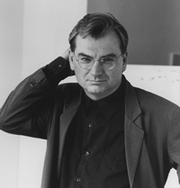 Richard Nelson (born October 17, 1950) is an American playwright who has written several award-winning radio plays. He is perhaps most notable for writing the books for the Broadway musicals The Dead and Chess.
Biography
Edit
Born in Chicago, Illinois, Nelson went to college in New York State. He lived in England for a year, returning to the U.S. in 1973. Since his first professional theatre play in 1975, he has written many acclaimed plays.
Theatre Work
Edit
Work in Radio
Edit
Nelson's first foray into radio drama came upon his return to the United States in 1973, when he wrote a series of radio plays inspired by current events, particularly the Watergate Scandal. They were broadcast on WUHY-FM[1].
He has received two Giles Cooper Awards - in 1987 for Languages Spoken Here and in 1989 for Eating Words.
Nelson's most recent radio play was Hyde Park-on-Hudson. Conceived as a film project, Nelson's choice of director proved unavailable at the time, so it was reworked as a radio play, produced in 2009. The film followed in 2012[2].
Radio Plays
Edit
References
Edit
External Links
Edit
Ad blocker interference detected!
Wikia is a free-to-use site that makes money from advertising. We have a modified experience for viewers using ad blockers

Wikia is not accessible if you've made further modifications. Remove the custom ad blocker rule(s) and the page will load as expected.