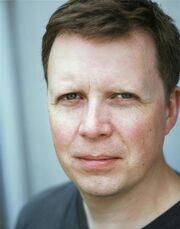 Robert Harper began his radio drama career with a play called Dreaming of Butlins by Tim Green, directed by Alison Hindell, in 1994 a few months after finishing his acting training at the Royal Welsh College of Music & Drama in Cardiff, South Wales.
After two years and a number of roles in radio recorded at BBC Wales, Robert joined the BBC Radio Drama Company in 1996 and spent 12 months recording hundreds of roles across drama, comedy and serials. Robert has also worked in other areas of voice work - recording commercials, video games, narrations and animations; most notably as the character of Strawberry in the series of Watership Down.
Robert has also worked extensively in theatre and television.
Radio Plays
Edit
List of Robert Harper's Radio Plays
Ad blocker interference detected!
Wikia is a free-to-use site that makes money from advertising. We have a modified experience for viewers using ad blockers

Wikia is not accessible if you've made further modifications. Remove the custom ad blocker rule(s) and the page will load as expected.