Slick Bracer, P.I. is an audio drama series written by Erik Deckers. It is a comedic take on the detective genre. Deckers has written six episodes of the series, which have been produced by various audio drama groups online and on radio.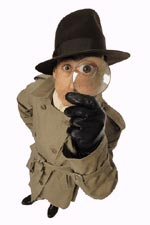 A Four Star Murder
Slick Bracer and the Case of the Kidnapped Canine
Slick Bracer and the Mystery of Some Murdered Guy
Slick Bracer and the Mystery of the Ruby Tooth
Slick Bracer and the Giant Nap
Slick Bracer and the Perils of Public Radio
Decoder Ring Theatre
Edit
In 2007 Decoder Ring Theatre produced the episode "Slick Bracer and the Giant Nap" for their Showcase series. The episode was well received, resulting in DRT producing all 6 episodes as their 2011 Showcase series. This is probably the most widely known interpretation of Slick Bracer.
Deckers gave DRT director/producer Gregg Taylor permission to change the name of Slick's secretary to "Mabel" for the 2007 show, and "Mildred" in the 2011 series, due to a character named "Trixie" being a lead on DRT's Black Jack Justice series. The 2007 episode was produced with a simple piano for music and starred M. John Kennedy and Gregg Taylor. For the 2011 series, Taylor cast Peter Nicol and Christopher Mott and used a disco-esque soundtrack, creating a completely different feel for the show.
2007 Episode
Edit
2011 Series
Edit