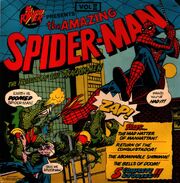 The Power Records Spider-Man series is a series of audio dramas based on the comic book hero and produced for children's records in the 1970s. The stories were released in several different combinations and sometimes included a comic book of the story.
The Mark of the Man-Wolf
Invasion of the Dragon Men
Return of the Conquistador
The Mad Hatter of Manhattan
The Abominable Showman
The Bells of Doom
External Links
Edit
Ad blocker interference detected!
Wikia is a free-to-use site that makes money from advertising. We have a modified experience for viewers using ad blockers

Wikia is not accessible if you've made further modifications. Remove the custom ad blocker rule(s) and the page will load as expected.