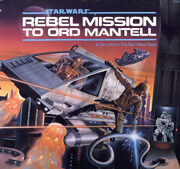 Rebel Mission to Ord Mantell was an audio drama scripted by Brian Daley, the author who wrote the scripts for the Star Wars radio plays. It was released in 1983 by Buena Vista Records. The running time is approximately thirty minutes.
The story, set just before Star Wars Episode V: The Empire Strikes Back, concerns a mission to Ord Mantell, where Han Solo, Luke Skywalker, Princess Leia Organa and their companions have a run-in with a bounty hunter. This is meant to be the incident Han Solo mentions at the beginning of The Empire Strikes Back.
External Links
Edit
Ad blocker interference detected!
Wikia is a free-to-use site that makes money from advertising. We have a modified experience for viewers using ad blockers

Wikia is not accessible if you've made further modifications. Remove the custom ad blocker rule(s) and the page will load as expected.