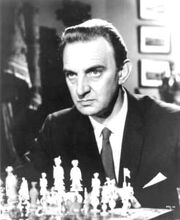 Stephen Umfreville Hay Murray
(6 September 1912 – 31 March 1983) was an English cinema, radio, theatre and television actor, most famous on radio for his portrayal of Ltd. Commander Murray on
The Navy Lark
.
Biography
Edit
A member of Clan Murray headed by the Duke of Atholl, he was born in Partney, Lincolnshire, the son of the Reverend Charles Murray, Rector of Kirby Knowle, Yorkshire, and Mabel (née Umfreville). He was the great-grandson of the Right Reverend George Murray, Bishop of Rochester, while the diplomat Sir Ralph Murray was his elder brother. He was educated at Brentwood School, Essex and the Royal Academy of Dramatic Art, London.
His first stage role was in Much Ado About Nothing in 1933. He worked in theatre until he was commissioned as an Army officer in World War II. In 1945, he returned to his stage work.
Murray married Joan Alestha, daughter of John Joseph Moy Butterfield, in 1937. He died in London on 31 March 1983, aged 70
Career on Stage and Screen
Edit
Career in Radio
Edit
Stephen Murray acted in many radio plays over the course of a long career in the medium. One of his early roles was in the seminial 1942 production of Christopher Columbus by Louis MacNeice, it was followed by an acclaimed production of Macbeth in 1947, co-starring Flora Robson. Many more featured roles followed, in plays by Marlowe and Shakespeare.
In October 1959, Murray was cast in BBC Radio comedy The Navy Lark as Commander Murray, replacing Dennis Price as one of the lead characters. It was Murray's most famous role, which continued until the series ended.
Murray appeared in two acclaimed radio plays by Tom Stoppard - The Dog It Was That Died and Artist Descending A Staircase. He also appeared in many radio plays by R.C. Scriven, in the role of Scriven himself.
List of radio plays featuring Stephen Murray
External Links
Edit
References
Edit
Ad blocker interference detected!
Wikia is a free-to-use site that makes money from advertising. We have a modified experience for viewers using ad blockers

Wikia is not accessible if you've made further modifications. Remove the custom ad blocker rule(s) and the page will load as expected.