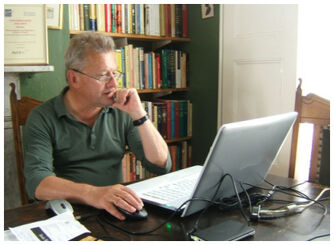 Stephen Wyatt
was born in Beckenham, Kent and brought up in Ealing in West London. He was educated at Latymer Upper School and then went to Clare College, Cambridge.
After graduating, he stayed on to complete a doctoral dissertation, The Victorian Extravaganza 1830-1885, for which he was awarded a Ph.D. While at Cambridge, he directed the 1973 Footlights Revue, Every Packet Carries a Government Health Warning, as well as productions of The Mikado, Handel's Semele and Verdi's I Due Foscari. His first full length comedy, Exit, Pursued by a Bear, was produced at the Edinburgh Festival in 1973.
After a brief spell as Lecturer in Drama at Glasgow University, he began his career as a playwright in 1975 as writer/researcher with the Belgrade Coventry Theatre in Education team. In 1982 and 1983 he was Resident Writer with the London Bubble Theatre.
Stephen has worked widely as a freelance playwright in theatre, radio and television ever since. He also has considerable experience as a teacher, workshop leader and script reader and in the creation of audio guides. In 2008, his play, Memorials to the Missing, won the Tinniswood Award for best original radio script of 2007 as well as Silver in the Best Drama category of the 2008 Sony Radio Academy Awards. He has just completed two years as Royal Literary Fund Writing Fellow at the University of Sussex.
Radio Plays
External Links
Edit
Stephen Wyatt Interview ALCS News February 2009
References
Edit