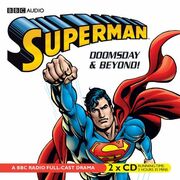 Superman: Doomsday and Beyond (retitled Superman Lives! for U.S. release) is an audio drama produced for BBC Radio 5 in 1993. It was written and directed by Dirk Maggs and based on the DC Comics storylines Doomsday/The Death of Superman, Funeral for a Friend and Reign of the Supermen/The Return of Superman.
They Saved Luthor's Brain
Doomsday
Funeral for a Friend
Reign of the Supermen
Who is the Hero True?
External Links
Edit
Ad blocker interference detected!
Wikia is a free-to-use site that makes money from advertising. We have a modified experience for viewers using ad blockers

Wikia is not accessible if you've made further modifications. Remove the custom ad blocker rule(s) and the page will load as expected.