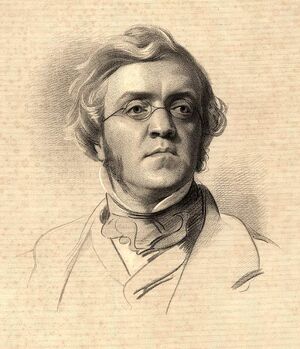 Tales From Thackeray
Dramatized by Stephen Wyatt
Directed by Sally Avens
BBC Radio 4 - 08.01.2001
5 Episodes
Short stories by William Makepeace Thackeray
Episode 1 - 08.01.2001 - The Three Suitors - When Morgiana Crump looks for a husband, a battle of wigs and waistbands ensues.
Cast:
Episode 2 - 15.01.2001 - The Widower - When Miss Prior is engaged as governess to Horace Mililken's children, she seems the model of propriety - but breeding will out.
Cast:
Episode 3 22.01.2001 - The Bedford Row Conspiracy - When John Perkins falls in love, little does he realise that affairs of the heart are governed by political allegiances.
Cast:
Episode 4 - 29.01.2001 - The Ravenswing - Matilda Snodgrass's debut in the world of opera takes London by storm.
Cast:
Episode 5 - 05.02.2001 - A Little Dinner At Timmins
Cast:
Critical Reception
Edit
References
Edit
Ad blocker interference detected!
Wikia is a free-to-use site that makes money from advertising. We have a modified experience for viewers using ad blockers

Wikia is not accessible if you've made further modifications. Remove the custom ad blocker rule(s) and the page will load as expected.