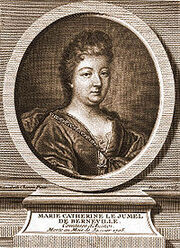 Tales The Countess Told
by
Stephen Wyatt
Directed by
Claire Grove
BBC Radio 4 - 01.01.2001
The Countess D'Aulnoy read her fairy tales to enraptured audiences in the salons of 17th-century Paris.
The adventures of princesses, serpents, yellow dwarves and tiny pagodas mirror the equally colourful life of the Countess.
Critical Reception
Edit
References
Edit
Ad blocker interference detected!
Wikia is a free-to-use site that makes money from advertising. We have a modified experience for viewers using ad blockers

Wikia is not accessible if you've made further modifications. Remove the custom ad blocker rule(s) and the page will load as expected.