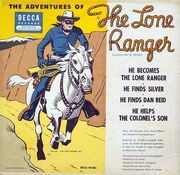 The Adventures of the Lone Ranger is a series of 9 children's audio drama records from the 1950s. These 45s were released by Decca Records and featured the cast from the radio series.
He Becomes the Lone Ranger
He Finds Silver
He Finds Dan Reid
How Tonto Saved the Lone Ranger
He Helps the Colonel's Son
He Saves the Booneville Gold
He Meets the War Horse
He Meets the Stranger From the East
The Bluefield Prison Break
Ad blocker interference detected!
Wikia is a free-to-use site that makes money from advertising. We have a modified experience for viewers using ad blockers

Wikia is not accessible if you've made further modifications. Remove the custom ad blocker rule(s) and the page will load as expected.