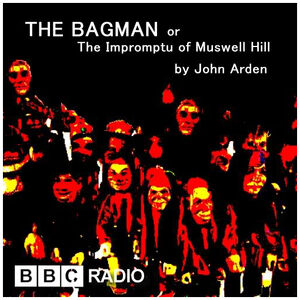 The Bagman or The Impromptu Of Muswell Hill
is a radio play by
John Arden
, broadcast on BBC
Radio 3
in 1970. It is 1hr 29min in length.
John Arden has a dream in which he meets an old woman who sells him a canvas bag, "A pig in a poke", he then finds himself transported to a dystopian land where the people are starving while the rich live in idleness and squalor.
with
Music and Special Effects by the Delia Derbyshire of the BBC Radiophonic Workshop
Directed by Martin Esslin
Critical Reception
Edit
Ad blocker interference detected!
Wikia is a free-to-use site that makes money from advertising. We have a modified experience for viewers using ad blockers

Wikia is not accessible if you've made further modifications. Remove the custom ad blocker rule(s) and the page will load as expected.