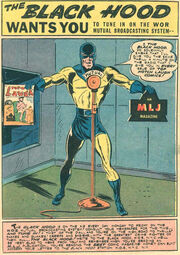 The Black Hood was a radio drama based on the super hero character that appeared in MLJ (later Archie) Comics. Running approximately 120 episodes, only one recording is known to still exist. The series ran from July 7, 1943 - January 14, 1944.
The character of the Black Hood debuted in Top Notch Comics #9 in October 1940. The character proved popular enough that he received his own comic series, a pulp magazine, and, in 1943, his own radio show. While the exact powers the character possessed, if any, and how he got them, were left vague in the comic pages, the radio show used his mask to give him supernatural abilities.
Very little information is known about this series. The show used "The Sorceror's Apprentice" for it's theme music. It ran for six months on the Mutual Network. Of the approximately 120 episodes broadcast, only one recording is still known to exist.
Episode Log
Edit
"Emerald Voodoo Ring" (the only known surviving episode, believed to be an audition recording)
External Links
Edit
The Black Hood radio article at The Mighty Crusaders Network
Ad blocker interference detected!
Wikia is a free-to-use site that makes money from advertising. We have a modified experience for viewers using ad blockers

Wikia is not accessible if you've made further modifications. Remove the custom ad blocker rule(s) and the page will load as expected.