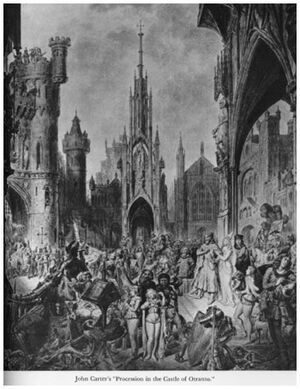 The Castle of Otranto by Horace Walpole
Dramatized by Michelene Wandor
Directed by Chris Wallace
BBC Radio 4 1997
Music Composed and played by Andy Roberts
Length 1hr 28mins
Published in 1765 and acknowleged as the first "Gothic" novel. Manfred, Prince of Otranto, had one son and one daughter: the latter, a most beautiful virgin, aged eighteen, was called Matilda. Conrad, the son, was three years younger, a homely youth, sickly, and of no promising disposition; yet he was the darling of his father, who never showed any symptoms of affection to Matilda.
Ad blocker interference detected!
Wikia is a free-to-use site that makes money from advertising. We have a modified experience for viewers using ad blockers

Wikia is not accessible if you've made further modifications. Remove the custom ad blocker rule(s) and the page will load as expected.