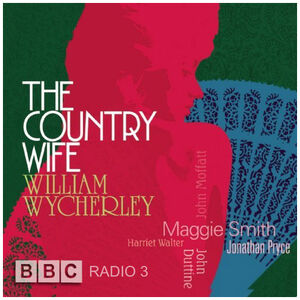 The Country Wife by William Wycherley
Directed by Glyn Dearman
Lady Fidget's song composed by Terence Allbright
BBC Radio 3 - 22/12/1985
Length 1hr 57mins
A Restoration Comedy, London 1675
Considered too obscene to be staged in its original form for nearly 200 years, William Wycherley's bawdy comedy tells the tale of Mr. Horner - a notorious rake who spreads the false rumor that he is impotent in order to gain free access to other men's wives. When he meets the young, innocent Margery Pinchwife, the scene is set for scandal.
Ad blocker interference detected!
Wikia is a free-to-use site that makes money from advertising. We have a modified experience for viewers using ad blockers

Wikia is not accessible if you've made further modifications. Remove the custom ad blocker rule(s) and the page will load as expected.