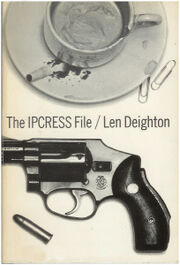 The Ipcress File
by
Len Deighton
Dramatized by
Mike Walker
Directed by
Toby Swift
BBC Radio 4
-
Saturday Play
- 17.01.2004
Len Deighton's gripping cold war thriller became a popular icon of British cinema.
Mike Walker's dramatisation re-discovers the novel and its unnamed and defiantly non-establishment narrator as his new job in the intelligence service ensnares him in a plot to brainwash scientists and trade them across the iron curtain.
Critical Reception
Edit
References
Edit
Ad blocker interference detected!
Wikia is a free-to-use site that makes money from advertising. We have a modified experience for viewers using ad blockers

Wikia is not accessible if you've made further modifications. Remove the custom ad blocker rule(s) and the page will load as expected.