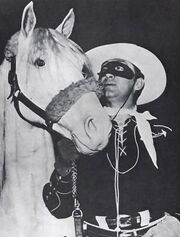 The Lone Ranger is an Old Time Radio western audio drama. It ran from 1933-1956, producing over 3,000 episodes. The series was created by George W. Trendle and Fran Striker, and Striker oversaw all of the scripts, writing the majority of them himself. A typical opening began with the "William Tell Overture" and the opening narration;
"A fiery horse with the speed of light, a cloud of dust and a hearty Hi-Yo Silver! The Lone Ranger! ... With his faithful Indian companion Tonto, the daring and resourceful masked rider of the plains led the fight for law and order in the early western United States! Nowhere in the pages of History can one find a greater champion of justice! Return with us now to those thrilling days of yesteryear! From out of the past come the thundering hoofbeats of the great horse Silver! The Lone Ranger rides again!"
Main Cast
Edit
Ad blocker interference detected!
Wikia is a free-to-use site that makes money from advertising. We have a modified experience for viewers using ad blockers

Wikia is not accessible if you've made further modifications. Remove the custom ad blocker rule(s) and the page will load as expected.