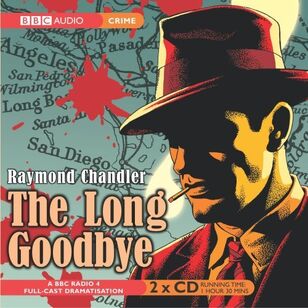 The Long Goodbye
by
Raymond Chandler
Dramatized by
Bill Morrison
Directed by
John Tydeman

BBC Radio 4
- 16.01.1978
5th of 6 dramatizations with Ed Bishop as Philip Marlowe
Terry Lennox seemed like a nice guy. Okay, he was a drunk but maybe that could happen to anyone with too much money, too much time and a wife who played the field in a big way. Trouble was, when she ended up dead, it wasn't money that got Lennox to Mexico. It was Marlowe.
Critical Reception
Edit
References
Edit
Details from recording of broadcast
Ad blocker interference detected!
Wikia is a free-to-use site that makes money from advertising. We have a modified experience for viewers using ad blockers

Wikia is not accessible if you've made further modifications. Remove the custom ad blocker rule(s) and the page will load as expected.