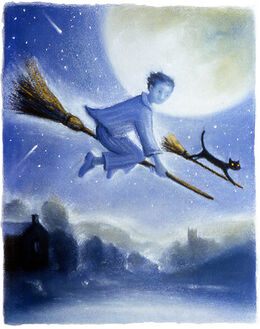 The Midnight Folk
by
John Masefield
Dramatized by
Christopher William Hill
Directed by
Tracey Neale
Music by
Neil Brand
BBC Radio 4
-
Classic Serial
Episode 1 - 10.12.2006
Episode 2 - 17.12.2006
2 x 60mins
John Masefield's "The Box of Delights (1996) " also featuring Kay Harker was broadcast in 1996
A little boy, Kay Harker, finds himself in a race against the evil Abner Brown. Abner has the Pouncer Seven, his witch friends, and their dark magic but Kay has the very special Midnight Folk to help him - Nibbins, the cat, Bitem, the fox and Blinky, the owl. But which side will find the treasure first?
Ad blocker interference detected!
Wikia is a free-to-use site that makes money from advertising. We have a modified experience for viewers using ad blockers

Wikia is not accessible if you've made further modifications. Remove the custom ad blocker rule(s) and the page will load as expected.