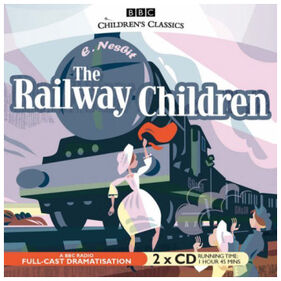 The Railway Children
by
E Nesbit
Dramatized by
Marcy Kahan
Directed by
John Taylor
BBC Radio 4
- 2002
4 episodes
Episode 1 - A family's sudden upheaval becomes bearable for the children when they find a railway near their new house.
Episode 2 - Roberta, Phyllis and Peter jump to the rescue as Mother falls ill and a Russian turns up at the station.
Episode 3 - An avalanche poses a problem on the line and even a fishing trip takes a dramatic turn.
Episode 4 - Roberta learns the truth about her father and the children help out when a paper chase goes wrong.
References
Edit
Ad blocker interference detected!
Wikia is a free-to-use site that makes money from advertising. We have a modified experience for viewers using ad blockers

Wikia is not accessible if you've made further modifications. Remove the custom ad blocker rule(s) and the page will load as expected.