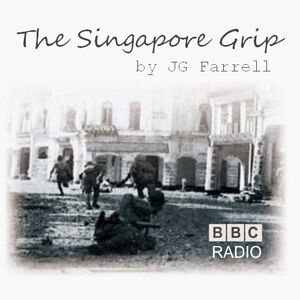 The Singapore Grip by JG Farrell
Adapted by Mike Walker
Directed by Peter Kavanagh
Gamalan Music composed and played by Felix Jay
Trumpet solos by Byron Wallen
BBC Radio 4 Classic Serial
3 x 60mins episodes
Epiosode 1 - 29.10.2000
Epiosode 2 - 05.11.2000
Epiosode 3 - 12.11.2000
Dramatization of the novel by JG Farrell
A love story and a war story, a tragicomic tale of a city under siege and a dying way of life.
The setting is the island of Singapore, starting in 1937, just before the outbreak of World War II, it moves on to describe the fall of Singapore.
Ad blocker interference detected!
Wikia is a free-to-use site that makes money from advertising. We have a modified experience for viewers using ad blockers

Wikia is not accessible if you've made further modifications. Remove the custom ad blocker rule(s) and the page will load as expected.