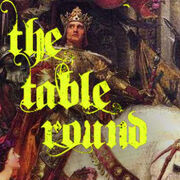 The Table Roun
d is an ongoing, full cast audio dramatisation of the Legends of King Arthur. It began podcasting in February 2014.The story begins with a young King Arthur battling rebel kings immediately after he first drew the sword from the stone. 
Primary Credits
Written by Morgan Z. Sowell
Produced by Lindsey Smith
Chandler Walpole as King Arthur
Blair Palmerlee as Merlin
Joshua Lane Kibbey as Lancelot
Cathie Vargas as Guinevere
Thomas McCutchen as Kay
Olivia Steele as Anna Morgause
 Episodes
The First War That Arthur Had, and How He Won The Field"
"How Arthur Rode to the Rescue of Leodegrance and the Gaining of Excalibur"
"How Gawain was Knighted and Lancelot Rode Out"
"Of the War with the Saxons and How Arthur met Lancelot
Ad blocker interference detected!
Wikia is a free-to-use site that makes money from advertising. We have a modified experience for viewers using ad blockers

Wikia is not accessible if you've made further modifications. Remove the custom ad blocker rule(s) and the page will load as expected.