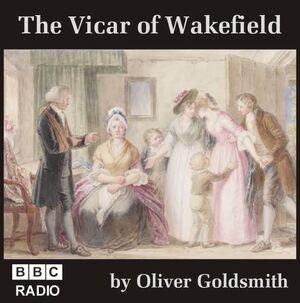 The Vicar of Wakefield
by
Oliver Goldsmith
Adapted by
Christopher Denys
Directed by
Sue Wilson
BBC Radio 4
-
Classic Serial
Episode 1 - 26.09.1999
Episode 2 - 03.10.1999
Episode 3 - 10.10.1999
3 x 60mins
A three part adaptation of Goldsmith's comic novel first published in 1766.
The Humorous adventures of the ever optimistic Rev. Charles Primrose, who loses his fortune.
Episode 1 - He sets off with his despairing family through storms and floods to embrace a life of poverty in a rural Pennine parish.
Episode 2 - Engaging Olivia's affections, Squire Thornhill becomes a regular visitor to the Primroses. But rather than elevation to the higher echelons of society, infamy and deception are afoot.
Episode 3 - The Rev Primrose sets off to find his wayward daughter, but his faith is severely tested by what he uncovers.
with
Christopher Scott, Terry Molloy, Susan Jeffrey,
Iwan Thomas, Laura Strachan, James Richard
and Jennifer James.
References
Edit
http://www.radiolistings.co.uk/programmes/vicar_of_wakefield__the.html
Ad blocker interference detected!
Wikia is a free-to-use site that makes money from advertising. We have a modified experience for viewers using ad blockers

Wikia is not accessible if you've made further modifications. Remove the custom ad blocker rule(s) and the page will load as expected.