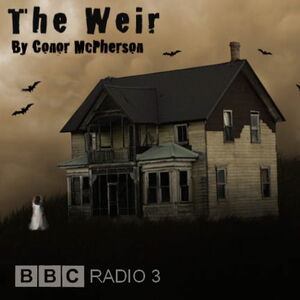 The Weir by Conor McPherson
Director Ian Rickson
Producer Jonquil Panting
BBC Radio 3 - 08.03.1998
Repeated 20.12.1998
This award winning Royal Court production was broadcast on Radio 3 prior to a season on Broadway.
Newcomer Valerie is brought for an evening to a lonely bar in a remote part of Ireland and is spellbound by the ghostly stories told by the bachelors who drink there.
Funny and chilling, this haunting hit production comes fresh from London's Royal Court Theatre.
References
Edit
Ad blocker interference detected!
Wikia is a free-to-use site that makes money from advertising. We have a modified experience for viewers using ad blockers

Wikia is not accessible if you've made further modifications. Remove the custom ad blocker rule(s) and the page will load as expected.