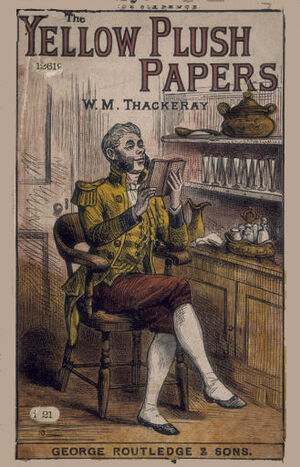 The Yellowplush Papers by William Makepeace Thackeray
Dramatized by Stephen Wyatt
Directed by Jessica Dromgoole
BBC Radio 4 - 09.02.2009
5 x 30mins episodes
Series of five comic tales by William Makepeace Thackeray recounting the rise and fall of early-19th century footman Charles Yellowplush.
Episode 01 - 09.02.2009 - My First Employer - Charles attracts the attention of an elegant gentleman, Frederick Altamont, who is pursuing the lovely Mary. Charles does his best to matchmake, until the awful truth about Altamont comes to light.
Episode 02 - 16.02.2009 - Captain Rook - Charles helps his new employer Captain Rook, a wily and roguish cardsharp, to fleece a rich but naive gentleman.
Episode 03 - 23.02.2009 - Deuceace - Charles finds himself in Paris in attendance on a young aristocrat of very dubious morals who has fled England to escape his creditors.
Episode 04 - 02.03.2009 - My Novel - When a fashionable society novelist comes to stay at Diddlesex Towers, he inspires Charles to undertake an ambitious and scandalous enterprise.
Episode 05 - 09.03.2009 - My Debut In Society - Charles suddenly finds himself a very rich man. He leaves service and embarks on a life of opera, society dinners and balls. And goes a little mad.
Critical Reception
Edit
References
Edit
Ad blocker interference detected!
Wikia is a free-to-use site that makes money from advertising. We have a modified experience for viewers using ad blockers

Wikia is not accessible if you've made further modifications. Remove the custom ad blocker rule(s) and the page will load as expected.