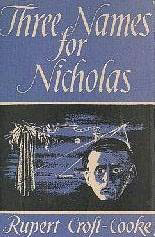 Three Names For Nicholas by Rupert Croft-Cooke
Dramatised by Giles Cooper
BBC Radio Home Service 05.01.1952, Saturday Night Theatre
Dramatisation of the novel first published in 1951
Prolific author Rupert Croft-Cooke also wrote many detective stories under the pseudonym Leo Bruce.
Requires Input
The Cast:
Edit
no information at this time.
If you know the cast members and/or the Producer/Director
of this play please click on the edit button and update this section
References
Edit
http://www.suttonelms.org.uk/GC.HTML Diversity Website
Ad blocker interference detected!
Wikia is a free-to-use site that makes money from advertising. We have a modified experience for viewers using ad blockers

Wikia is not accessible if you've made further modifications. Remove the custom ad blocker rule(s) and the page will load as expected.